Details

Published: 19 March 2017

19 March 2017

Hits: 3077

3077
Dear Parents,
we have received requests for host families from five students from Bussels I - Uccle - who would like to visit S5 at ESF September-December 2017. Logged-in members can find more information here. Update 19 March 2017: Two of the girls from Brussels I have found host families - thank you all! But three girls are still anxiously waiting and we have now received a request for a host family from a boy from the Bussels II school as well, so please check the information again!
Details

Published: 14 March 2017

14 March 2017

Hits: 3274

3274
This year a new online platform will be used for the first time for the marking the Baccalaureate papers. Interparents has been following the project right from the start, trying to ensure that all risks related to its implementation are identified and addressed.
The Baccalaureate Unit at the Office of Secretary General of the European Schools is starting a series of Newsletters aimed at informing all the European School community of relevant issues concerning the European Baccalaureate. In the first issue you will find information about online correction.
Moreover, on 6 February the four European Schools from Brussels held a joint Baccalaureate Conference. We invite you to watch the webcast (the title 'Bac Reform' is somewhat misleading).
Barbara Soszyńska
Details

Published: 12 February 2017

12 February 2017

Hits: 1638

1638
We are extending our support for the ESF community by opening a new section on this website where we will post various resources that may help you to better fulfil the difficult and sometimes ungrateful role of being a parent. The idea is to share materials on many subjects we all need to deal with on a daily basis: how to communicate successfully with our children, how to support those who suffer from anxiety, how to instil self-esteem, how to motivate the child, how to recognise an eating disorder... We appreciate your feedback and suggestions for other materials.
We hope that with your support this section will grow into a rich multilingual library, for the benefit of all parents and children at the ESF.
Details

Published: 17 February 2017

17 February 2017

Hits: 4950

4950
Educational support for children with learning difficulties of different forms and levels is in place at the European School. For generic information about the different level of support provided at school please visit the school's web site here and here.
Learning difficulties such as dyslexia, dyspraxia, dysgraphia, dyscalculia, ADA/H, high potential, are not always well known. The right to ensure an inclusive education of these pupils is a priority for the PA as well as the school. The PA, alongside the school, actively supports families of such children to help ensure the learning environment is adapted to better address special needs.
In 2017/2018 the ESF PA established, in cooperation with the school, a "tripartite agreement" for children with an official diagnosis from a qualified medical professional. This agreement between the school, parents, and a third-party therapist allows outside support personnel to work outside school hours on campus alongside the child.
In this context, the PA also participates in the Educational Support committee. This committee addresses specifically issues surrounding the well being of special needs students. Conferences, trainings and other initiatives for parents, teachers and students are proposed as well in this forum. Attendees includes school directors, PA Board members representatives and the support teachers coordinators.
To reach the PA Board members responsible for the educational support, please send an email educational-support@esfparents.org
Update October 2019:
One of the most important projects funded by the Parents' Association for teachers and students is to support the use of stress and attention management techniques through mindfulness, and non violent communication. 
The project is to promote emotional intelligence to provide the essential keys to a fulfilling life. 
Christelle Pillot has been working at the ESF since 2018 at the request of teachers to offer these techniques or by intervening directly in classes with children, in pre-primary and primary school, in several language sections. The project is now starting as well in secondary school in all language sections in S1 – S6 and S7.
Another trainer Jane Küppers recently provided a workshop on Class Management for German speaking teachers. This initiative was a succes and is about to be repeted in 2020.
An Italian trainer could be able to join the team soon.
We hope to renew these projects in the next coming years.
We had the opportunity to welcome Olivier Revol for 2 days - and 5 conferences - reserved for all parents but also for teachers and teenagers of the French section of the European School.
We had a great time with him, his energy, his exceptional capacity for popularization, his availability, his ability to conquer varied audiences will not fail to leave excellent memories of beautiful shared moments and beautiful doses of collective emotions on sometimes difficult subjects.
We are grateful to him for this "marathon" and more particularly for having agreed to present his conference on 21st century teenagers in English to an enthusiastic audience from all over Europe who discovered him that evening.
A collaboration between the ESF Parents' Association, the Lycée Français Victor Hugo and the Dys à Francfort association made this important project possible for families and we warmly thank the volunteers from the two schools who participated.
Thanks also to Florence Dailleux who produced the graphic recording synthesizing these conferences, especially the one on flourishing at school, which may soon no longer be a crazy idea... thanks to the teachers who also came in large numbers. We thank them for that.
And a special thanks to Delphine Braun, President of the PA, who encouraged this project since the beginning.
Update June 2019:
L'un des projets phare financé par l'association des parents d'élèves à destination des enseignants et des élèves est d'accompagner l'utilisation de techniques de gestion du stress et de l'attention en pratiquant entre autres la méditation de pleine conscience.
Christelle Pillot est Coach et formatrice certifiée. Elle s´est donnée pour mission de faire connaitre l´intelligence émotionnelle et la pleine conscience pour donner les clés essentielles à une vie épanouie.
À continuer: La pleine conscience.pdf
Update March 2019:
The presentation for this event can now be downloaded here in French. An English translation is available here.
Update April 2019: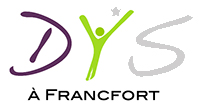 Dans le cadre des projets de Support Educatif que les parents de l'ESF développent au sein de l'école, nous sommes représentés auprès de l'Association Dys à Francfort.

Pour que les enfants à besoins éducatifs particuliers soient accompagnés au mieux pendant leur scolarité, l'association propose :

* un réseau d'échange et d'entraide entre parents
* une collaboration avec les établissements scolaires francophones de Francfort et sa région
* un lien avec les professionnels de la santé (orthophonistes, ergothérapeutes, psychologues, etc…)
* des conférences, des animations, des ateliers pour parents et enfants

Vous trouverez de plus amples renseignements sur Dys à Francfort en suivant les liens ci-dessous: 
http://www.aledas.com/association-dys-a-francfort/
https://www.facebook.com/groups/infodysafrancfort/
Pour toutes questions sur le Support Educatif à l'ESF vous pouvez contacter l'association des parents d'élèves en français à l'adresse suivante: educational-support@esfparents.org.
"The Student Who Cannot Learn Like the Others: Discovering and Developing the Strengths of a Unique Mind"
Details

Published: 02 February 2017

02 February 2017

Hits: 1515

1515
For pupils who are planning to study in the UK and their parents: please see this comprehensive presentation on various financial aspects - tuition fees, student loans, fee status and sources of funding, by Holly Smith from Sussex University.
Status: January 2017 (please bear in mind that the situation may well change in the next few months).